Extra Touches
Delivered to your room just prior to your arrival unless otherwise requested.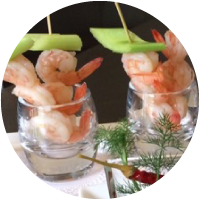 All-Star Splurge.
Champers and Shrimp Cocktail for Two
House-poached and chilled jumbo shrimp, artfully presented and served with a chilled bottle of fine champagne and all the trimmings.
$75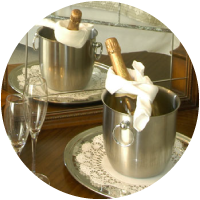 Start your stay with a pop.
Champers & Chocolate
What better way to celebrate your first evening at the Bass Cottage Inn? Return from dinner to the comfort of your room, where you'll enjoy a full bottle of chilled champagne and ripe strawberries hand-dipped in rich chocolate.
$70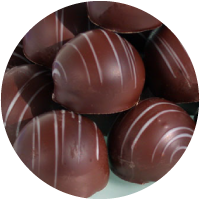 How sweet it is.
Cabernet & Truffles
Savor a bottle of Cabernet Sauvignon as you unwind from your day. The wine really complements the chocolate truffles, hand-made here in Bar Harbor.
$50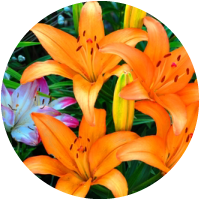 Romance is in bloom.
Say It with Flowers
Arrive for your special romantic getaway at the Bass Cottage Inn and find a bouquet of lovely fresh flowers gracing your room.
$50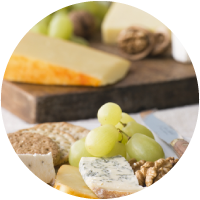 Say cheese.
Artisanal Cheese & Fruit Plate
Enjoy a delicious selection of three artisanal cheeses, seasonal fruit, nuts and demi-baguette to accompany the Inn's fine wine selection, which is available for purchase to enjoy anytime.
$45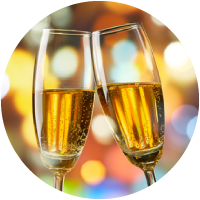 Honeymoon sweet.
Our complete romance package
Make your stay a special honeymoon, second honeymoon or just a romantic interlude. Arrive and be greeted in your room with fine champagne on ice, beautiful fresh flowers and two commemorative Bass Cottage Inn coffee mugs that you can take along with you.
$100
check availability
Perfect in every way! I read many wonderful reviews on the Bass Cottage Inn before making our reservation, and I was not disappointed! The breakfasts were delicious and served by very delightful staff. Our room was gorgeous, immaculate, and so comfortable. There were many wonderful special little touches. We most definitely recommend staying at this Inn!"
Bedandbreakfast.com guest review